Sabrina Annlynn Carpenter (born May 11, 1999) is an American actress and singer. She is best known for her role as Maya Hart in the Disney Channel spin-off Girl Meets World as well as for her music career.
Life and Career
1999-2011: Early life and career beginnings
Sabrina Carpenter was born in May 11, 1999 in Lehigh Valley, Pennsylvania. Carpenter is the youngest member of the Carpenter family and has two older sisters, Sarah and Shannon, as well as half-sister Cayla. Her mother is Elizabeth Carpenter and her father is David Carpenter. She is also the niece of Nancy Cartwright, known for her long-running role as Bart Simpson on the animated television series The Simpsons. She made her mark as a child when she placed third place in a singing contest run by the Miley Cyrus website. In 2011, she was cast her first role as Paula, a young rape victim in Law and Order: Special Victims Unit, alongside fellow Disney star Peyton List.
2012-2013: Film and television experience
In 2011, she was cast in the drama The Unprofessional as a minor character. She was later cast in the Disney movie Gulliver Quinn along with Liv and Maddie star Joey Bragg. In 2013, she was cast as a minor character in Noobz along with Hannah Montana star Moises Arias and Nickelodeon star Matt Shively. Later, in 2013, she was cast as Young Merrin in Horns starring Daniel Radcliffe.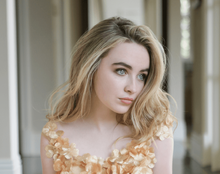 In 2013, Carpenter was cast in a guest role as Lucy Gluckman in the Disney Channel series Austin & Ally. She played a young nerd contestant on a music competition show who was insecure about herself, that is until Austin and Ally turn her into a beautiful singer. She later learns to be confident in herself. She only appears in the episode "Moon Week & Mentors".
2014-2015: Debut album and Girl Meets World
In late 2013, Carpenter was cast as the rebellious Maya Hart in the Disney Channel series Girl Meets World, a spin-off of Boy Meets World. The series debuted on June 27, 2014 after the Disney Channel Original Movie Zapped. She sings the theme song to the show, "Take On the World", with co-star Rowan Blanchard. In April 8, 2014, Carpenter released a four-song EP, Can't Blame a Girl for Trying. A year later, in April 2015, she released her debut album Eyes Wide Open.
2016-2017: Second album and change in sound
In February 2016, Carpenter released the single "Smoke and Fire", followed by another single, "On Purpose", in July. On September 3, 2016, Carpenter announced her second studio album, EVOLution, and the following day announced that she would be headlining her first tour, the EVOLution Tour, in promotion of the album. Three promotional singles were released in the three weeks leading up to the album, "All We Have Is Love", "Run and Hide", and "Thumbs". The album was released on October 14, 2016, and the tour began the following week. In May of 2017, she went on tour opening for The Vamps in the UK, and collaborated with them and Mike Perry on the single "Hands." At the end of June 2017, she opened in Brazil for Ariana Grande during her Dangerous Woman Tour and began her second headlining tour in North America on July 6, 2017. She released the single "Why" on July 7, 2017. On October 13, 2017, Lost Kings released a single called "First Love", which Carpenter was featured on.
2018-2019: Singular, return to film
Carpenter released the single "Alien" on March 16, 2018, a collaboration with Jonas Blue. This was followed by the release of "Almost Love" on June 6, 2018, with the single's release being preceded by the announcement of her next album, Singular. In September 2018, she contributed to the soundtrack of the Netflix movie Sierra Burgess Is a Loser with the song "Lie for Love". The following month, she played Hailey in the movie The Hate U Give, a movie adaptation of a 2017 novel by Angie Thomas. She also played Nola in the 2019 independent movie The Short History of the Long Road.
On October 22, 2018, Carpenter announced on social media that Singular would be released in two "acts", with Singular: Act I being released on November 9, 2018 and Singular: Act II "coming soon". She embarked on The Singular Tour in March 2019 to promote both acts of the album. On the tour, she debuted two unreleased songs, "Pushing 20" and "Exhale". "Pushing 20" was later released on March 8, 2019, while "Exhale" was released on May 3, 2019. She was also featured on Alan Walker's single "On My Way", released on March 21, 2019. Singular: Act II was released on July 19, 2019. Two more singles were also released in the month leading up to the album's release, "In My Bed" and "I'm Fakin". In September 2019, Carpenter played Harper Kreyman in the Netflix romantic comedy Tall Girl.
2020-present: Upcoming fifth studio album, Broadway debut
Carpenter surprise-released the single "Honeymoon Fades" on February 14, 2020 to coincide with Valentine's Day. She also made her Broadway debut as Cady Heron in Mean Girls in March 2020. She starred in the 2020 films Work It and Clouds. She is slated to star in the upcoming movie, The Distance from Me to You, which she will also serve as an executive producer for, alongside Danielle Fishel. Throughout 2020, she appeared on several songs for film and TV soundtracks - "Perfect Song" from Royalties, "Let Me Move You" from Work It, and four songs from the Clouds soundtrack.
On January 22, 2021, Carpenter released her first proper single in nearly a year with "Skin". This single was her first release after signing with Island Records. This was followed by "Skinny Dipping" in September 2021. In 2022, she starred in the films Emergency and Tall Girl 2, and released another single, "Fast Times".
Filmography
Main article: Filmography
Gallery
Main article: Gallery
Trivia
Her favorite flower is a rose.
Her favorite color is yellow.
Her parents used to call her "bumblebee" to remind her to always stay humble.
She is allergic to apples and carrots.
Like Maya, Sabrina also had a pet named Ginger, but he was a cat, not a ferret.
She has a dog named Goodwin.
She was signed to her record label when she was 12.
She refers to her fanbase as "Carpenters".
Her zodiac sign is Taurus.
Sabrina and her Girl Meets World costars August Maturo and Corey Fogelmanis played the Darling siblings in Pasadena Playhouse's Peter Pan production, along with Bunk'd star Kevin Quinn as Peter, her love interest.
Her favorite superheroes are Hit-Girl (Chlöe Grace Moretz) from the movie Kick-Ass and Deadpool (Ryan Reynolds).
She wishes to collaborate with Adele or Hozier.