Danielle Christine Fishel (born May 5, 1981) is an American actress and television personality best known for her role as Topanga Lawrence on the 1993 TV sitcom Boy Meets World. She reprises the role for the 2014 spinoff Girl Meets World. She is also known for being the host of Style Network's The Dish. Fishel also appears in National Lampoon's Dorm Daze and its sequel, and was a spokesperson for NutriSystem. She is also a resident reporter on PopSugar.
Friendship with Sabrina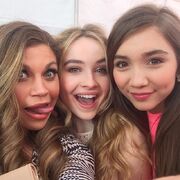 Fishel played Topanga Lawrence in Girl Meets World alongside Sabrina Carpenter, who plays Maya Hart. Both of them also served as executive producers for the film The Distance from Me to You, which stars Carpenter.